3DF Lapyx – Camera calibration made simple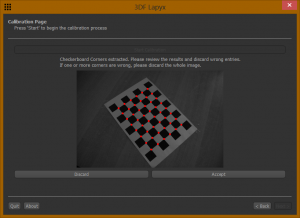 3DF Lapyx is a free software utility to perform automatic camera calibration, that extracts the typical intrinsics camera parameters used in Computer Vision.
The software can extract and export the camera focal length (in pixels and mm), optical center, skew, and radial distortions parameters (using the Brown's model).
A simple wizard will guide you into the phase of camera calibration. All you have to do is take some pictures of a checkerboard grid, everything else is automatic.
The software run on Windows, and comes in both 32-bit and 64-bit versions.
Download the installer (Win-64 – Win-32)

To begin the download, please accept the license agreement.
I Accept the License Agreement
---