3DF ZEPHYR ALLOWS YOU TO AUTOMATICALLY AND EASILY
RECONSTRUCT 3D MODELS FROM PHOTOS
The process is completely automatic.
No coded targets, manual editing or special equipment are needed.
3DF Zephyr is built on top of our proprietary, cutting-edge, reconstruction technology.
3DF Zephyr comes with a user friendly interface, and the capability to export
in many common 3D formats or even to generate high definition videos without
the need of external tools. 3DF Zephyr is the perfect tool for
MODELLING FROM REALITY.
Improved technology
We always push in research and development and 3.1 is no exception, as we improved speed and accuracy in every reconstruction step of our state of the art photogrammetry pipeline. Many other optimizations, which include an even lower memory footprint have been implemented.
Brand new texturing algorithm
Our long awaited new texturing algorithm is finally deployed in this new release: enjoy beautiful and clear textures with photorealistic colors.
Improved interoperability
Zephyr 3.1 includes support to the most common RAW camera formats (.cr2,.nef,etc.) as well as an improved native laser scanning format support, now capable of importing bubble views in e57 multi scans and many other new file format plugins.
Always ready for production
This update features many new tools and improvements to our workflow as well as many goodies such as native 4k resolution. 3DF Zephyr is the complete photogrammetry software suite, fast and reliable.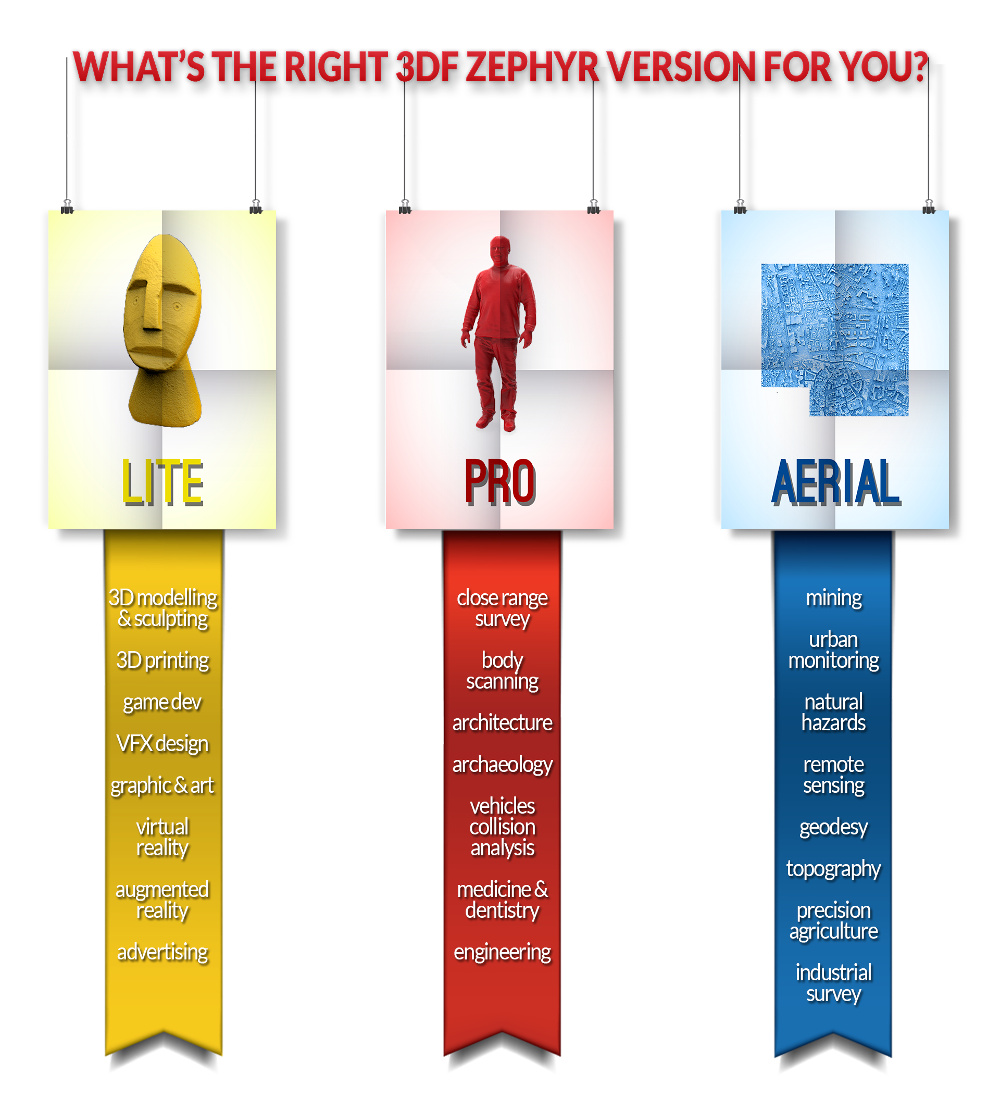 Lite

Pro

Aerial

Automatic Structure from Motion

Global and Incremental pipeline

Easiest camera calibration management

Add photos anytime

Dense cloud generation

Reconstruction with presets

Advanced settings

Custom settings

Mesh Texturing

Editing tools

Mesh filters, hole filling and photoconsistency

External UV mapping

Match viewer

Direct Sketchfab upload

Video making & smartsnap

Direct Youtube upload

Masking capabilities

Pictures and quality evaluation

Pictures import

Up to 200 photos
Unlimited, depending on computer memory

Video Import

Up to 200 frames
Unlimited, depending on computer memory

CUDA ® computation

Single GPU
Multi GPU
Multi GPU

Exporting

Mesh only
Cameras, Point Clouds and meshes

Native Laser Scan support

viewer only

Multi ICP registration

Workspace merge

Batch processing

Automatic marker detection

Point Cloud/Mesh import

Statistical analysis & report

Control points, measurements & volumes

Orthophoto & Orthomosaic

Volume projection

Shape from Silhouette

Polyline drawing

Automatic polyline extraction

DEM profile

Contour lines generation

Sections / Track sections

PCS georeferencing support and conversion

DEM viewer

EXIF GPS coordinates

GPS exif perview

3D Eye app and beecopter support

Tech support

Forum
Forum & email
Forum & email

Free updates

1 year
1 year
1 year

Pricing

149$ + vat
3200$ + vat
4200$ + vat

Buy 3DF Zephyr Lite

Buy 3DF Zephyr Pro

 

Buy 3DF Zephyr Aerial
3DF Zephyr is built on the top of 3DF Samantha and 3DF Stasia: our leading, traceable, academically recognized, in-house built technologies. We are very proud of the technology behind our product as it is a result of many years of research and development. The research behind the product has lead to many academic publications on top-tier Computer Vision Conferences. Our technology is completely transparent and traceable and it is recognized as one of the most effective and innovative.Every pixel counts in our reconstruction engine. Our technology makes use of every single image pixel to give the most accurate solution as possible. To make this possible, we use an efficient out-of-core mechanism for computation.