To celebrate your overwhelming support over our 3DF Zephyr Steam Edition release, we are happy to announce the first "Win 3DF Zephyr" contest!
The contest is open to everyone! We are, in fact, hosting two different contests at the same time:
Win 3DF Zephyr Lite Steam Edition: anybody can submit their entry using the free 14 days 3DF Zephyr Lite trial (no purchase required) to win one (1) 3DF Zephyr Lite (steam edition) full license
Win 3DF Zephyr Pro: any user who bought any version of 3DF Zephyr before the submission end date can enter the contest to win one (1) 3DF Zephyr Pro full license
The theme for this contest is: ANYTHING VIDEOGAMES RELATED!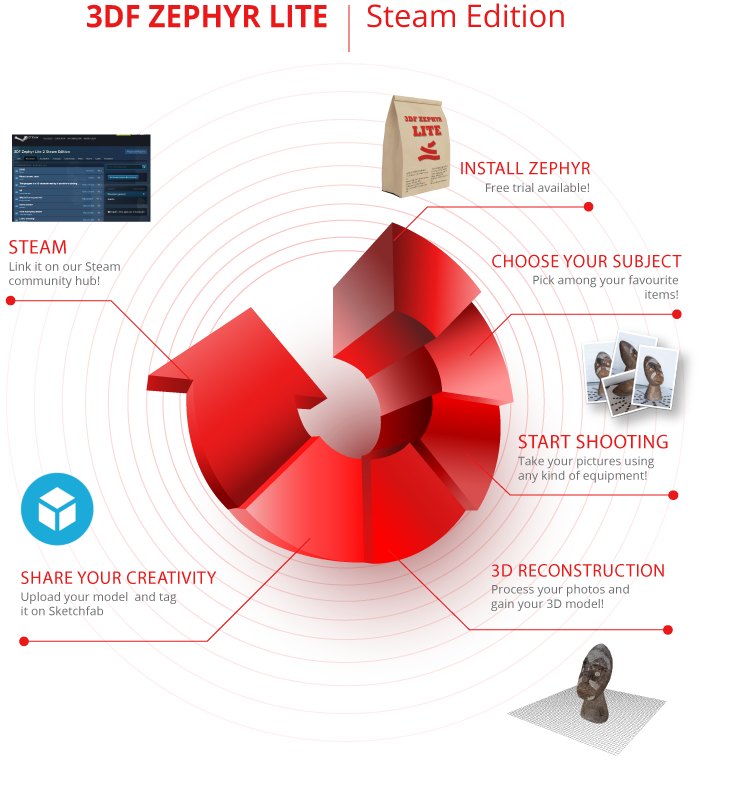 Both contests have the same theme: since we're celebrating our Steam release, we will award the prize to the best 3D reconstruction of anything videogame related! Be creative! You can 3D-scan your favourite videogame action figure, assets that you are planning to use in your upcoming game (and let us know something about your game, too!), your own props or costumes, anything videogame related – surprise us! The best reconstructions (both on a technical and an artistic point of view) will be rewarded with 3DF Zephyr!

In order to enter the contest simply:
Download and install 3DF Zephyr (a free trial can be found here)
Choose your subject and reconstruct it (mesh + texture) with 3DF Zephyr
Upload your 3D model(s) to Sketchfab (a free Sketchfab account is required) and tag it with "3DFContest1"
Post a link to your model(s) Sketchfab page in our Steam Community Thread (a free Steam account is required)
You're done! Make sure you have uploaded your 3D model and posted the link before February 29th
We will announce the winner on our website and on our dedicated Steam Community Forum: good luck, everyone!