April's fool 2021 content 🙂
We're happy to announce that the upcoming release of 3DF Zephyr, is coming out nicely! Since the beta is going to happen sometime this month (or at the latest, May) we wanted to showcase some of the recent developments with you.
---
Skybox
---
By popular demand now 3DF Zephyr has a customizable skybox!
This highly anticipated feature, which has been in development for years, allows you to create even more beautiful movies inside Zephyr to shocase your reconstructions.
Creating movies to showcase your work has always been a simple, yet favourite feature of 3DF Zephyr: simply click to add virtual cameras and render your movie. Easy, simple, and effective. From the next version, you will also be able too add a custom skybox, to create even more engaging videos (or screenshots)!
---
Material Scanning Tool
---
You can now reproject your 3D model over a defined plane in the workspace, which is excellent for 3D scanning materials such as walls or floors.
As you can see in the screenshot on the left, the texture and normal map are applied on the mesh for ultra-realistic results. It may not look like it, but this quad has a staggering 1 billion triangles for maximum realism!
This feature is not present in 3DF Zephyr Free or 3DF Zephyr Lite, although an alternative workflow is possible by installing an external plugin for Blender or Maya – additional plugins will be released with the upcoming patches.
Note that these plugins are usualy 2/3 TB each, but fear not – when purchasing 3DF Zephyr, you will be able to opt-in for a phyisical shipping of an installation CD-ROM with a complimentary free hard disk with the desired plugin.
---
Improved Photoconsistency
---
As usual we keep working on improving our core reconstruction algorithm, and our newly photoconsistency filter is something you've never seen before!
The photoconsistency filter is now instant – that's right, even on an old Intel Pentium 4 with 2GB of DDR2 ram, the reconstruction takes less than 1 second for a billion points.
The most observant reader may have noticed that this improvement comes with a slight noise problem but you can still clearly appreciate the sharp edges this new approach grants to all your 3D models.
Sure it may be a bit different than what you're used to, but who needs a quality model when you can run this on a 15 years old machine?
---
Improved 3DF Scarlet Interface
---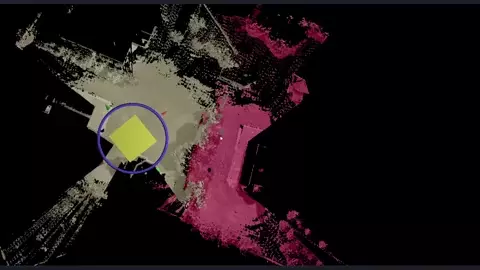 3DF Scarlet is also getting a lot of new tools and a vastly improved intefrace.
The new shader, codenamed E.E.L. (Eartquake Enhancer Latcher) allows for a better experience.
This shader will keep you much more focused during your work, ensuring best results: our tests have demonstrated how fear is the best motivator, with a 104% increase in productivity when using a tool that may or may not work all the time.
Other 3DF Scarlet improvements include a much faster rendered, many bugfixes and the support of other popular formats.
---
Single Photo 3D reconstruction via AI
---
Thanks to our newly patented T.R.O.U.T. (Triangle Reconstructor Over Unified Tensor) technology, it is now possibly to fully reconstruct a 3D model from just one picture.
This breakthrough technology uses advanced neural networks trained over the course of months and can fully reconstruct a model from just one random photo. Keep in mind this feature is available on CUDA powered cards only.
If that's not amazing yet, check the screenshot on the left: note how the eagle model is perfectly reconstructed even on the backside, with a front-facing camera only, and with a totally different photo!
That is the power of T.R.O.U.T. ™!
---
More to come?
---
Excited for this 3DF Zephyr release? We are too! If it seems too good to be true, wait until the next development status article, you may be surprised!
No 3Dflow products were harmed in the production of this article. If you can read this, you don't need glasses.