With today's update, we shed some light on what's coming for 3DF Zephyr 6.5 – codename Fragola.
We will start the new open beta shortly. Let's explore together what to expect in the latest 3DF Zephyr Betaverse!
---
Significant SfM improvements
---
With this release, we've improved Samantha, our state-of-the-art structure from motion technology, to be even more faster and accurate than ever.
While the improvements are significant in all use cases, we've also created a new preset, specifically designed to optimize computation time and accuracy for vertical structures, such as BTS / cellular towers, skyscrapers, and such.
It is also important to stress that the generally improved SfM accuracy leads to general improvement to the whole pipeline.
---
ArtEngine integration
---
We have partnered up with Artomatix at Unity Technologies to bring artengine into 3DF Zephyr!
License holders of artengine can now directly interface their 3DF Zephyr scans with the first in class AI-powered engine by Artomatix, for a streamlined workflow to apply some of selected ArtEngine's algorithms in order to generate seamless materials (Albedo, Normal, Ambient Occlusion, Height, Roughness) directly in 3DF Zephyr.
The workflow builds on top of Zephyr's planar textures generation, and requires ArtEngine installed on your computer in order to work.
We will announce more news about the license requirements in the upcoming weeks.
Let's take a sneak peek at this new tool: after completing your 3D scan and after having generated planar textures, an object with the materials is added to the workspace. At this point, you can run the ArtEngine Seam removal utility directly within 3DF Zephyr.
As you can see in the first image on the left here, a visual aid is offered to quickly set the parameters that will be used by ArtEngine.
After the computation, a new object with the seam-removed materials is added to the workspace, and the new materials can be exported to a directory of choice.
---
Orthophoto Editor
---
With the orthophoto editor, you will be able to edit or improve specific portions of an orthophoto: this dialog provides a set of drawing tools, that will allow to edit specific regions that are going to be re-comuputed. Let's take a quick look at the interface:
On the right side of the dialog, the following are shown top to bottom:
A scroll-down list of the created regions.
The "Projection Type" option, that is associated with each drawn region. The setting offers two kinds of Projections methods used to obtain the final result (a preview is visible setting the flag on the bottom right).
The list of the Cameras associated with the currently edited region (and their image preview below the list). Among the cameras, you are allowed to select a Reference Camera, that plays a major role in the editing process.
By Pressing the "Compute and Replace" button, the editor will finalize the changes. The result is replaced both into the workspace and on disk. In case the result is not satisfactory, you can easily undo the operation with CTRL+Z and iterate on your project.
---
Improved Elevation Profile interface
---
While the current Elevation Profile is more than adequate, we haven't really improved it a lot since its release. It was long overdue that we improved this tool for a better experience. With this release you can expect:
Show more profiles in a single plot for better comparisons
Choose the relevant data to be shown in the bottom axis (quota, progressive) for each profile
Fancy restyling.
---
Improved Drawing Elements interface
---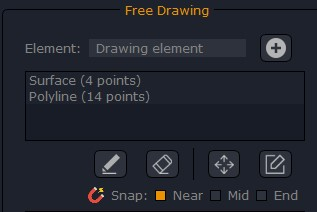 A 'Snap' function has been added to the drawing elements toolset.
With 3DF Zephyr 6.5, you will be able to choose to snap the next drawing point to an existing drawing element feature (endpoints, midpoints, closest points).
This feature also enables users to draw on top of other drawing elements without the need of point/mesh data.
Additionally, an improved preview during free drawing has been added, with lots of visual aids to show the user a preview of the next chosen point before committing to it. As this feature might be slow for big datasets, it must be turned on explicitly before free drawing.
---
Much more!
---
As usual, there will be many other many minor improvements, bugfix and other new features: to mention a few, we will be seeing USD file format export support, an improved LoD export, a spot height map tool, an improved bounding box gizmo, and much more!
Make sure to join our community to stay updated and to join the upcoming Beta program!