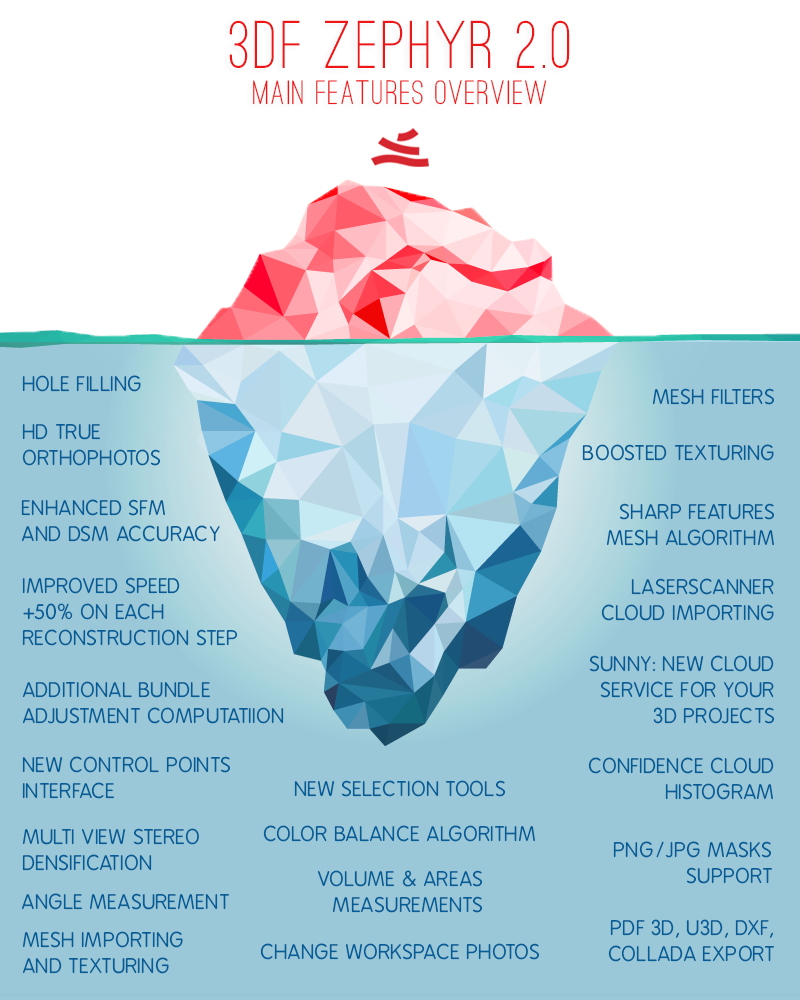 3DF Zephyr v2.0 is finally here!
The biggest update to 3DF Zephyr is ready for download: enjoy lots of new core improvements for both speed and accuracy, as well as tons of new exciting features!
What's new in this update?
Here's an overview of the main new features:
New Sharp Features Mesh generation Algorithm (3DF Sasha)
Improved speed during Dense point Cloud Computation
Several accuracy improvements on dense point cloud computation
Improved speed during SfM
Accuracy improved on SfM
New color balance algorithm
Bundle adjustment can be triggered during GCP alignment.
added object cut/object copy
added mesh filters (densification, decimation, smoothing, fill holes)
added PNG/JPG mask support
added point cloud / mesh import into workspace
added PDF 3D, U3D, DXF and COLLADA support
New tool: compute volume
New tool: compute mesh areas
New tool: Additional Bundle Adjustment step
New tool: Angle measurement
New tool: Change workspace photos
New tool: Confidence histogram
3DF Sunny support (cloud computing web service – now in beta)
Tons of minor fixes and improvements.
….much, much more!