Case Study – Multispectral Images
Today's case study has been carried out by DL Droni SRL, Italian company providing aerial photography and photogrammetry services such as:
Thermal Inspections
Infrastructure Inspections
Inspections of telephone antennas
Precision Agriculture
In this case, they used a specific camera to shoot multispectral photos of countryside area to monitor vegetation and processed them with 3DF Zephyr Aerial.
Survey :
Surveying equipment consisted of :
Drone DJI Mavic Pro (sensor size: 1/2.3″)
Multispectral Camera Parrot Sequoia
Data collecting :
80 x 4 Multiband pictures (GRE – NIR – RED – REG)
Picture 1. Example of Multispectral images
Workflow :
After the survey phase, they proceeded to calibrate images into 3DF Zephyr environment with apposite tool radiometric calibration.
This tool allowed them to convert the raw images into calibrated ones using calibration panel.
Picture 2. Calibration panel visualized in calibration tool
They continued until the generation of the orthophoto, customizing the output bands with the calculation of GNDVI index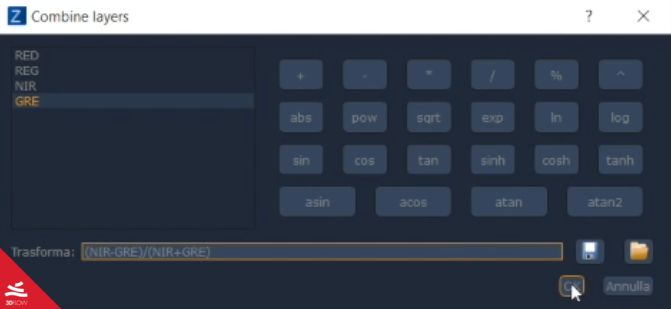 Picture 3. Custom layer combiner tool
Results :
This workflow allowed them to create a multispectral view of the surveyed area, analyzing it with the index they needed.
Below the results :
Picture 4. NDVI Index
Picture 5. GNDVI Index
Picture 6. NDRE Index
With these resulting images, they were able to satisfy the customer's needs by analyzing the area taken into consideration and highlighting, through the NDVI index, the areas with the highest density of vegetation alive.
Here is a link of the video showing the entire process directly carried out and kindly offered by DL Droni.