Orthophoto generation
Welcome to the 3DF Zephyr tutorial series. In this recipe, you will learn how to generate an orthophoto with 3DF Zephyr.
This tutorial requires 3DF Zephyr Pro (prior to 3.700) or 3DF Zephyr Aerial.
This tutorial is not about reconstruction: if you are not interested in geographical analysis and survey you can probably skip this tutorial.
3DF Zephyr is used in a wide variety of case scenario, from asset generation for videogames to precise geographic measurements. Orthophoto generation is critical for these case studies where – usually – a drone or other aircraft takes pictures of a certain area and surveys to need measurements without having to worry about distortions. If you are using 3DF Zephyr for this purpose, you probably know all of this very well, but for those unfamiliar, let us quote Wikipedia:
An orthophoto, orthophotograph or orthoimage is an aerial photograph geometrically corrected ("orthorectified") such that the scale is uniform: the photo has the same lack of distortion as a map. Unlike an uncorrected aerial photograph, an orthophotograph can be used to measure true distances, because it is an accurate representation of the Earth's surface, having been adjusted for topographic relief, lens distortion, and camera tilt.
With 3DF Zephyr you can generate an orthophoto just in a few clicks: we will be using the same dataset used for control points. Please prepare your workspace and then proceed.
Step 2 – Orthophoto generation
From the "Workflow" Menu (1) you can find different orthophoto generation options :
Orthophoto from sparse points (requires to have generated sparse points cloud)
Orthophoto from dense points (requires to have generated dense points cloud)
True Orthophoto from Mesh (requires to have generated the mesh)
Select "True Orthophoto from Mesh" (2). The "Orthophoto Wizard" window (4) will appear and will offer you a choice of orthophoto generation mode, by control points, by axis, or by current view. Notice that this window is common for each of the three above choice.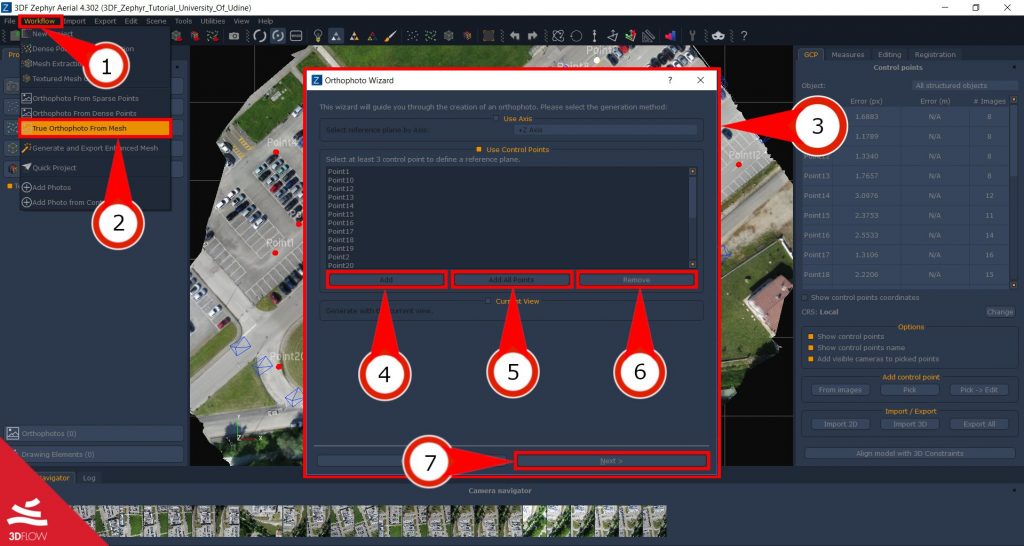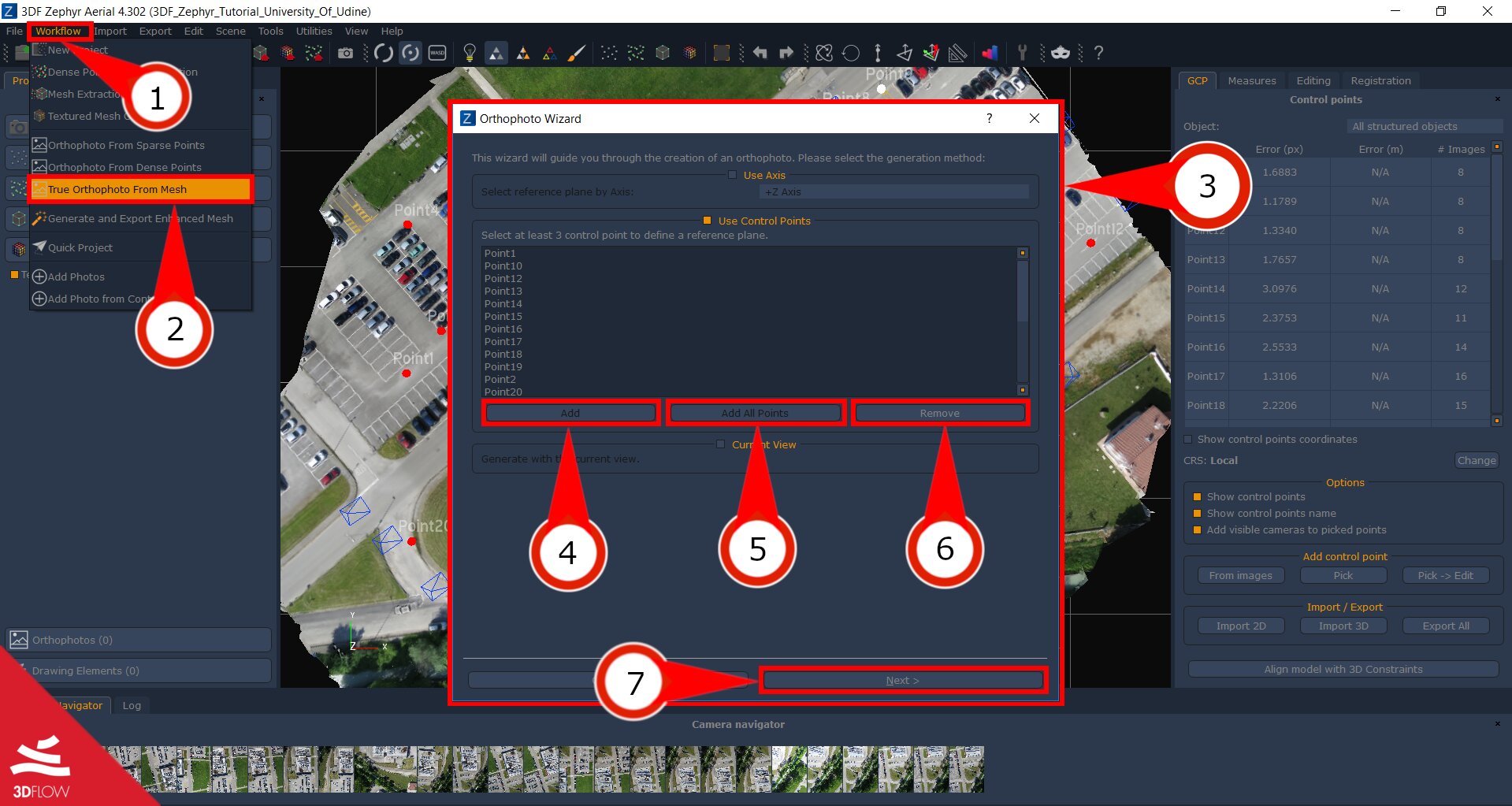 To create the orthophoto, you must have at least three control points defined. To select the control points needed to generate the orthophoto, simply use the Add (4) and Remove (6) buttons or use the "Add all points" (5) button depending on your scenario. Once you have chosen your control points, simply click the "Next" Button (8)
The Orthophoto Wizard will now present a whole new set of options while also rendering a preview in your scene. You can zoom, translate and rotate the camera with the camera controls (distance, rotation, X,Y ) and see the changes happen in real time in the Zephyr viewport. You can save a preview screenshot with the Take Screenshot button, or actually proceed to the orthophoto generation by clicking the "Generate Orthophoto" Button (12).
To proceed with the orthophoto generation you must have generated a mesh first. After selecting the mode in the first window (3), the orthophoto generation wizard will appear.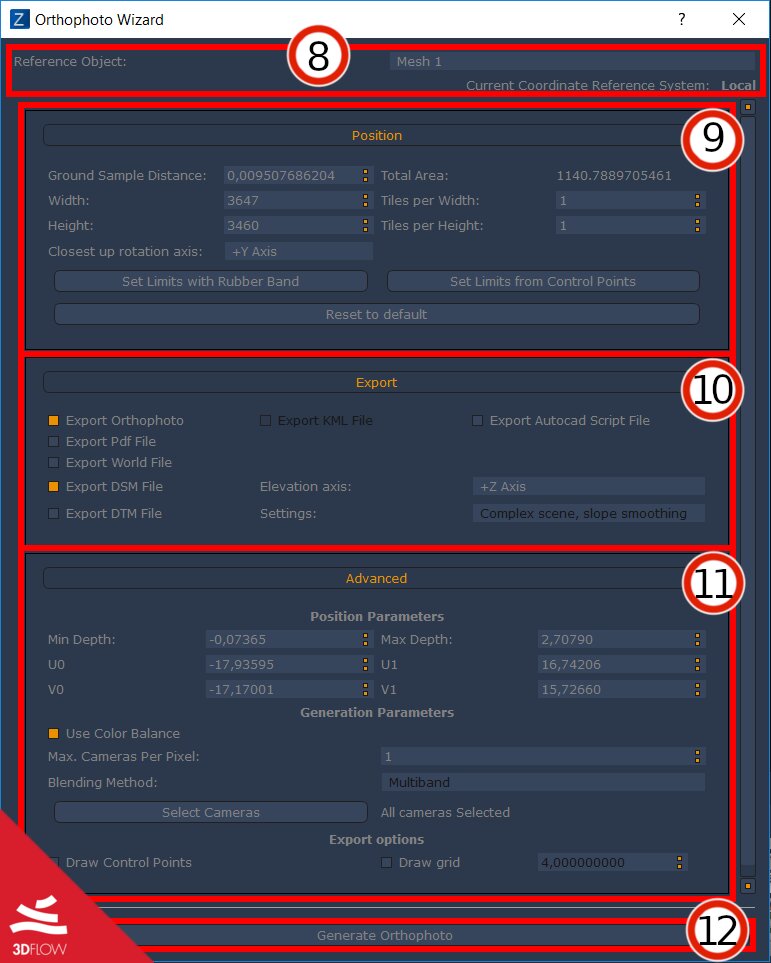 Subsection (8) will show the current coordinate system and allows you to select the mesh used for orthophoto generation.
The "Position" subsection (9) will define the initial and final position of the orthophoto. You may set the limits via control points or by dragging a rectangle with the rubber band tool. This section allows you defining the width and height of the output file (thus controlling the ground sample distance) too.
The "Export" (10) subsection allows to export:
World file (3DF Zephyr Pro and 3DF Zephyr Aerial)
Autocad script (3DF Zephyr Aerial) – exports a scr file that will automatically load the orthophoto within autocad, with the correct scale settings set in Zephyr
.KML file (3DF Zephyr Aerial)
Pdf
DSM (specifying elevation axis)
DTM
The Advanced subsection (11) allows controlling the color generation mode for every single pixel. This is system is very similar to the texture generation system. We advise to leave the color balance on with 1 camera per pixel. If you wish, you may, however, use more cameras for a different color weight. If this happens, you may choose between a fusion algorithm:
blending – will weight the color source depending on the view angle and the distance. Although it's robust to lighting changes, the mean won't keep high frequencies.
multiband – will use the mean to compute low frequencies and the best images to compute the high frequencies. This is usually a better choice than blending because while it is still robust to lighting changes (usually just a little worse than blending) by preserving high frequencies the resulting image will be more in focus and sharp.
You may control the appearance of control points and control distances using the "show control points and distances in preview"  checkbox.
The orthophoto generation procedure is fairly linear, however, we advise you to experiment in particular with the generation method to verify which one best meets your needs depending on the incoming dataset.

The next tutorial will show how to merge more file projects together. Click here to proceed to the next tutorial.